Art Center shows six New Yorkers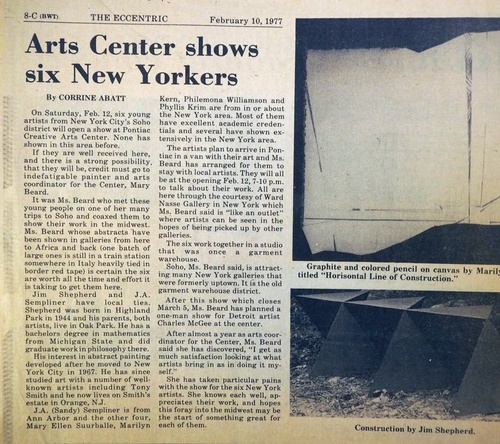 Genre
Clippings
Media Format
image/jpeg
Size
1041p x 924p
Dates
Subject
Collection
Rights Note
Ingested into the TFI Digital Archive through a partnership between The Feminist Institute and the Estate of Phyllis Krim, 2023.
Credit Line
Image courtesy of the Estate of Phyllis Krim. Digitized by Emilie Trice, curator of the Phyllis Krim Estate.
Copyright Status
Other - No Known Copyright
This press from The Eccentric is about an exhibition of New York artists, including Phyllis Krim, at the Art Center in Pontiac Creative Arts Center in 1977.