Petition to the Whitney and de Young Museums from the American Art Community and Others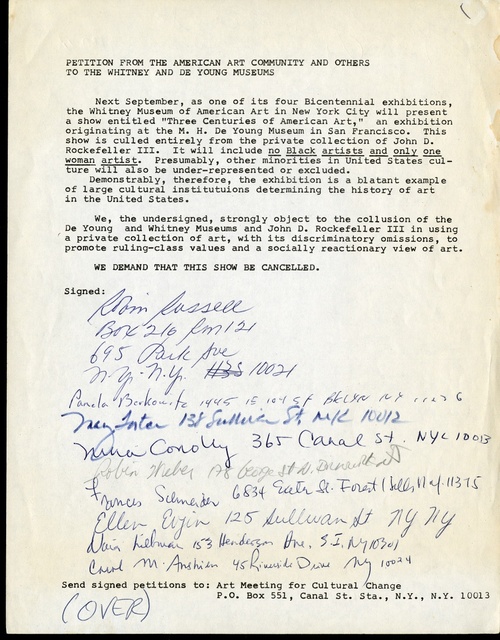 Genre
Petitions
Media Format
image/jpeg
Size
2578p x 3300p
Dates
Subject
Creator
Collection
Rights Note
Digitized as part of a partnership between A.I.R. Gallery and The Feminist Institute, 2022.
Credit Line
Courtesy of A.I.R. Gallery and New York University.
Copyright Status
In Copyright
In 1976, A.I.R. artists demanded that an exhibition at the Whitney Museum of American Art be canceled. The show, titled Three Centuries of American Art, was heavily opposed by the artists for its lack of inclusivity.
The artists who mobilized and organized the protest against the exhibition formed Artists Meeting for Cultural Change (AMCC). This activist group pushed for the greater representation of diversity in the arts.
Loading digital exhibitions
---