Cassandra Grant at Home, Prospect Heights, Brooklyn, NY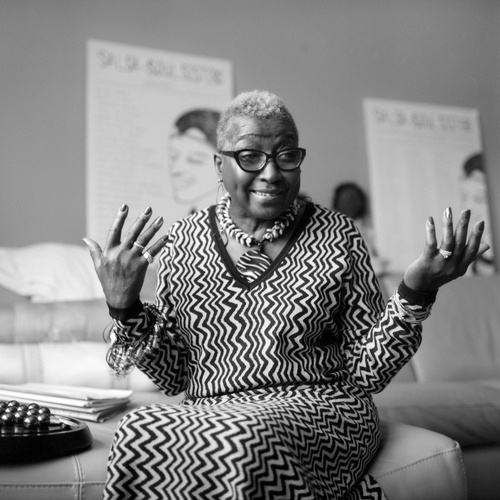 Genre
Photographs
Media Format
image/jpeg
Size
3000p x 3000p
Dates
Subject
Creator
Collection
Rights Note
Ingested into the TFI Digital Archive through a partnership between The Feminist Institute and Addresses Project, 2022.
Credit Line
Courtesy of Riya Lerner.
Copyright Status
In Copyright
This photo is from the portrait series in the Addresses Project which investigates lesbian and queer space and memory in New York City from the early 1900s to the present day through map-making, oral history interviews, ephemera and portraiture.
Cassandra Grant is an educator, activist and a founding member of Salsa Soul Sisters, the oldest black lesbian organization in the United States. Cassandra has dedicated her life's work to uplifting and empowering young people and community through her teaching in education reform. From her passionate and committed involvement with Salsa Soul to protesting systematic racism and racist practices of lesbians, Cassandra has fought to create and hold space for lesbian and queer women of color for decades. Her emphasis on community and respect above all else is a true inspiration and has led to younger generations of activist organizations stemming from Salsa, including African Ancestral Lesbians United for Societal Change (AALUSC).
Loading historical events
---
Loading digital exhibitions
---