Grace Moon at Home, Bushwick, Brooklyn, NY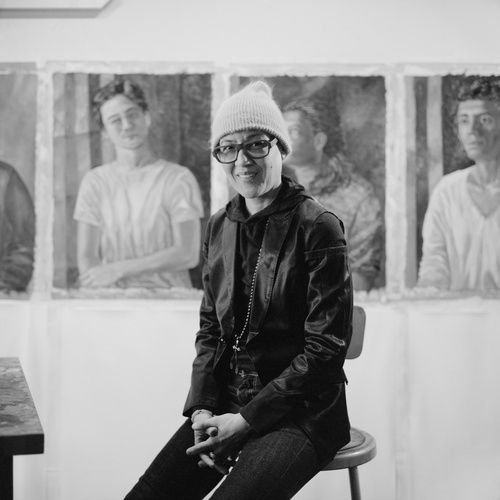 Genre
Photographs
Media Format
image/jpeg
Size
3000p x 3000p
Dates
Subject
Creator
Collection
Rights Note
Ingested into the TFI Digital Archive through a partnership between The Feminist Institute and Addresses Project, 2022.
Credit Line
Courtesy of Riya Lerner.
Copyright Status
In Copyright
This photo is from the Addresses Project which investigates lesbian + queer space and memory in New York City from the early 1900s to the present day through map-making, oral history interviews, ephemera and portraiture.
Grace Moon is an artist, activist and the founder of Velvetpark: Dyke Culture in Bloom. Grace created Velvetpark at a time when lesbian and queer women were just beginning to gain visibility and truly come out in a big way in New York City. Her magazine featured queer and lesbian activists, celebrities and community leaders such as Rachel Maddow and Margaret Cho. Grace's studio art practice spans portrait painting, drawing, design and writing. Her work in journalism and the arts investigates queer lives and communities in a sensitive, honest and vibrant manner (https://clavichord-flugelhorn-k9zm.squarespace.com/memory/grace-moon).
Loading historical events
---
Loading digital exhibitions
---