Lee Zevy at Home, Chelsea, New York, NY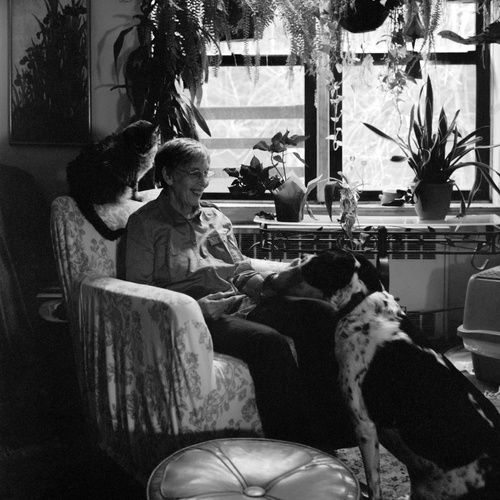 Genre
Photographs
Media Format
image/jpeg
Size
3000p x 3000p
Dates
Subject
Creator
Collection
Rights Note
Ingested into the TFI Digital Archive through a partnership between The Feminist Institute and Addresses Project, 2022.
Credit Line
Courtesy of Riya Lerner.
Copyright Status
In Copyright
This photo is from the Addresses Project which investigates lesbian + queer space and memory in New York City from the early 1900s to the present day through map-making, oral history interviews, ephemera and portraiture.
Lee Zevy is a therapist and activist. She co-founded Identity House in 1971 with a group of gay and lesbian activists and mental health workers during a time when homosexuality was still listed as a mental illness in the Diagnostic and Statistical Manual of Mental Disorders. From her activism in Civil Rights, Women's Rights and the Gay Rights Movements to her pioneering research on LGBTQ sex and identity, Lee has centered her life around opening up space for those who have lacked it most (https://addressesproject.com/memory/lee-zevy).
Loading historical events
---
Loading digital exhibitions
---