Michela Griffo at Home, Gramercy Park, New York, NY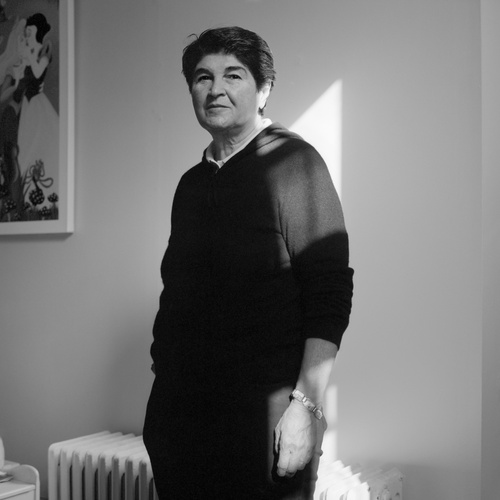 Genre
Photographs
Media Format
image/jpeg
Size
3000p x 3000p
Dates
Subject
Creator
Collection
Rights Note
Ingested into the TFI Digital Archive through a partnership between The Feminist Institute and Addresses Project, 2022.
Credit Line
Courtesy of Riya Lerner.
Copyright Status
In Copyright
This photo is from the Addresses Project which investigates lesbian + queer space and memory in New York City from the early 1900s to the present day through map-making, oral history interviews, ephemera and portraiture.
Michela Griffo is an artist and activist and came of age on the piers and streets of New York City in the 1950s and '60s. She was as an early member of the Redstockings and a founding member of Radicalesbians, Lavender Menace and the Gay Liberation Front. She was active in the Civil Rights, Women's Rights and Gay Rights Movements, working closely with activists such as Yoruba Guzman and radical organizations such as The Young Lords. Michela risked her life with other queer and lesbian activists on the front lines of the Gay Rights Movement paving the way for younger generations to come out and live safe and productive lives. In her visual art practice Michela explores themes such as the queer and lesbian woman's voice and desire as well as childhood trauma and addiction (https://clavichord-flugelhorn-k9zm.squarespace.com/memory/michela-griffo).