Sharee Nash at Home, Harlem, New York, NY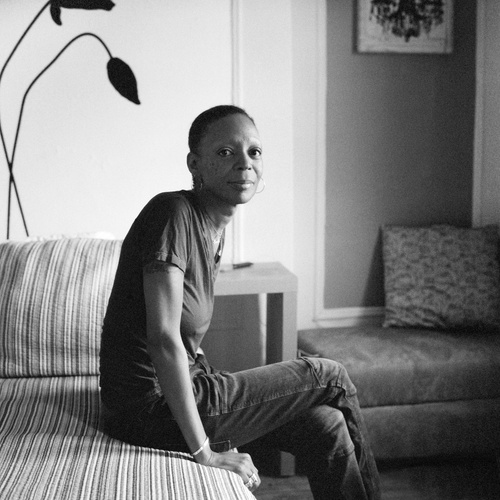 Genre
Photographs
Media Format
image/jpeg
Size
3000p x 3000p
Dates
Subject
Creator
Collection
Rights Note
Ingested into the TFI Digital Archive through a partnership between The Feminist Institute and Addresses Project, 2022.
Credit Line
Courtesy of Riya Lerner.
Copyright Status
In Copyright
This photo is from the Addresses Project which investigates lesbian + queer space and memory in New York City from the early 1900s to the present day through map-making, oral history interviews, ephemera and portraiture.
Sharee Nash is a writer, deejay, and co-founder of iconic parties for queer women and lesbians including Sundays at Café Tabac and Mondays at Bar d'O in the 1990s and early 2000s with fellow nightlife icon Wanda Acosta. Sharee's extensive knowledge of and passion for music has led her around the globe in search of sounds unheard of in New York City. Her work in nightlife with Wanda ushered in a massive shift in lesbian culture out from the hidden, mafia-owned dive bars into visible and glamorous spaces. Parties such as Sundays at Café Tabac enabled queer women to see one another and to see themselves with respect and adoration (https://clavichord-flugelhorn-k9zm.squarespace.com/memory/sharee-nash).