Photograph of A.I.R. Members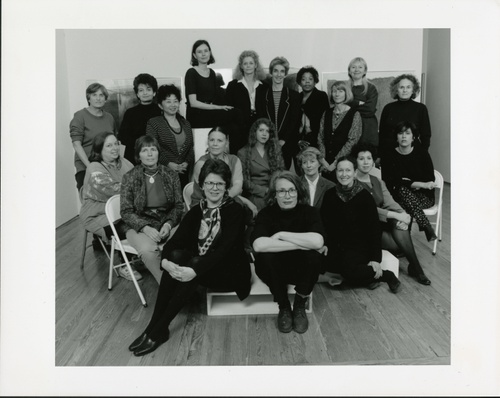 Genre
Photographs
Media Format
image/jpeg
Size
5956p x 4745p
Dates
Subject
Creator
Collection
Rights Note
Digitized as part of a partnership between A.I.R. Gallery and The Feminist Institute, 2022.
Credit Line
Courtesy of A.I.R. Gallery and New York University.
Copyright Status
In Copyright
David Plakke took this annual A.I.R. group photograph of twenty members of A.I.R. at the 40 Wooster Street gallery location in 1995. From left to right standing are Louise McCagg, Barbara Grinnell, Michi Itami, Tenesh Webber, Carol Ross, Elke Solomon, Carolyn Martin, Nancy Storrow, Daria Dorosh, and Nancy Azara; seated are Sylvia Netzer, Barbara Roux, Regina Granne, Janise Yntema, Sharon Brant, Lenore Goldberg, and Madeline Weinrib.The women sitting closest to the camera are Jessie Nebraska-Gifford on the left and Ann Pachner on the right.
Loading digital exhibitions
---